Cell-derived vesicle, CDV
A cell-derived vesicle (CDV) is a type of extracellular vesicle (EV). It is a new kind of nanoparticles that can function as an intercellular information transporter and drug transporter, similar to an exosome.
As exosomes harvest vesicles naturally secreted from cells, the production is limited, but CDVs can be produced in large quantities within a short period through direct extrusion from various human cells.
This CDV extrusion production technique, a core proprietary technology of MDimune, is patented in five major countries (USA, Europe, China, Japan and Korea).
CDV production based on extrusion technology

TEM images of CDV vs. Exosomes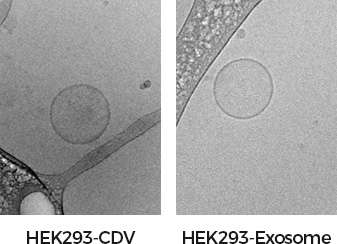 Superior productivity of CDVs vs. Exosomes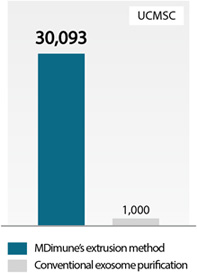 Different biogenesis of CDVs vs. Exosomes